Concrete Contractors for Driveways, Sidewalks, Patios
Need a new concrete driveway, patio, or walkway?  As reputable concrete contractors based in the Windsor Essex County region, we have more than 15 years experience removing and installing  new driveways, concrete stairs, backyard patios, and other concrete construction projects
Concrete – Safe, Durable, Low Maintenance
Concrete is one of the most durable and low maintenance surfaces available at a relatively low cost. When you receive a new concrete surface by TRS Waterproofing, you can be assured that our advanced techniques and multi-generation experience will provide you with superior results.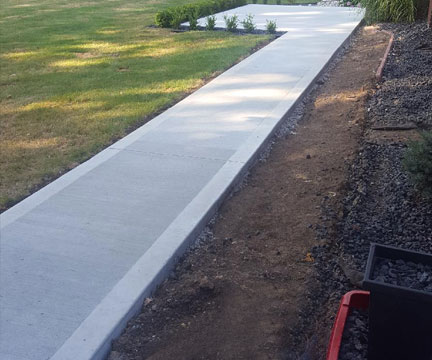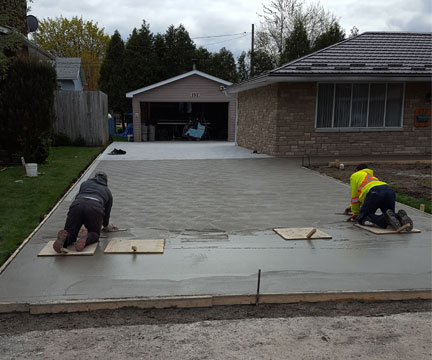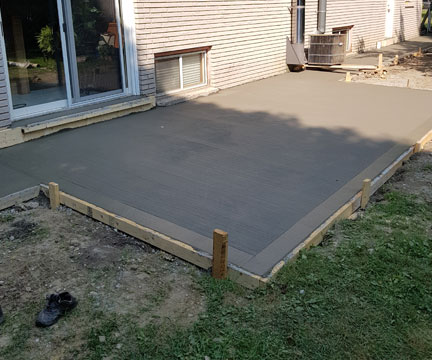 Whether you require a sidewalk, driveway, patio or multiple concrete surfaces, we will help guide you through the most important decisions. Our years of experience and expertise will help you in making the right choices to achieve the desired result.
Ground Preparation
Before any concrete touches the ground, excavators remove any existing concrete or surface such as gravel. We will dig down just deep enough to create a smooth surface that the concrete will be poured onto. Leveling and filling may be performed to achieve the appropriate grade for drainage. This also ensures that the ground under the concrete slabs will be stable reducing any chances of cracking or lifting.
Concrete Sidewalks & Patios
For your high-traffic areas, you want your concrete to look attractive for a long time and be relatively maintenance-free. Patios and sidewalks must be graded with an appropriate slope that is safe for walking and also directs water flow away from your foundation. A non-slip finish will help protect you, your family and your guests from slips and falls. Choose from a variety of textured finishes and sealers to keep your concrete surface looking new for a long time.
Concrete Driveways
Driveways have a heavy load to bear under the constant weight of your vehicles so they must be very durable, safe and require little maintenance. In addition to your daily vehicles, driveways have to stand up to boats, trailers and your budding basketball stars. But you also want an attractive first impression for your home. Concrete is not only durable, but offers a clean, even approach to the front of your home. Driveways have to stand up to all the elements: rain, snow, ice, and sometimes, chemicals. A variety of finishes and sealers are available to keep the surface of your driveway smooth, safe and attractive for a long time.
Service Area
We proudly provide concrete contracting services for the Windsor, Leamington, Kingsville, Essex, Amherstburg, LaSalle, Tecumseh, and Lakeshore areas.