Waterproofing Is More Than Damp-proofing
Exterior waterproofing consists of many elements working together to keep your Windsor area home dry and free of leaks. Waterproofing should not be confused with damp-proofing. Many older homes were constructed with damp-proofing, but are not necessarily waterproofed. Damp-proofing consists of a thin tar-like substance that is rolled on like paint. This application does not prevent cracks or keep water out of cracks that do develop.
Some older homes are more prone to leakage and water damage due to the construction standards of the time. Concrete block and brick foundations can develop cracks and shifting over time. Even poured concrete walls in newer homes can develop problems – especially in areas where many homes are being constructed over a very short period of time. Soil conditions can also cause problems. Clay, which contracts and expands during the freeze-thaw cycle, does not allow proper drainage and can create pressure against below-grade structures resulting in cracks and shifting.
What Is Exterior Waterproofing?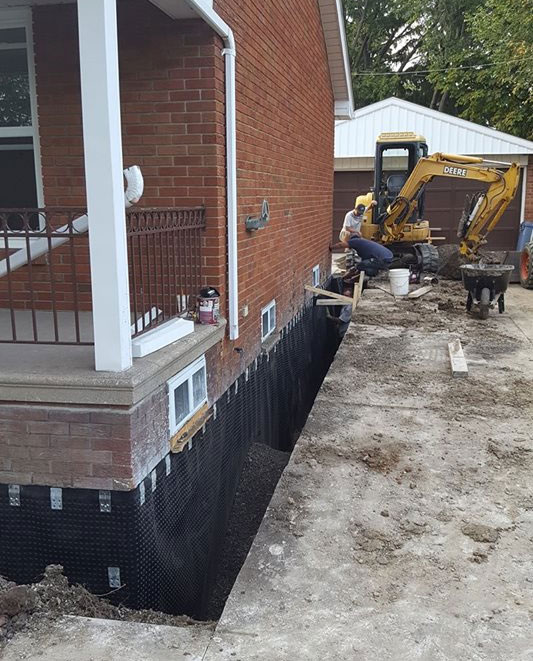 Exterior waterproofing is a system of drainage and water barrier elements that keep below-ground structures free of water leaks and dampness. It is usually applied to basement walls and foundations, but can also be applied to above ground structures that may be prone to water damage, pooling or drainage issues.
The Process:
Excavation of the exterior walls or foundation
Assessment of the condition of the walls or foundation
We look for cracks, shifting blocks, bowed or tilting walls
After any structural problems are addressed, we examine the drainage system and weeping tiles
External waterproofing is applied and drainage may be repaired or replaced as necessary
A backfill of gravel is poured against the wall
The gravel is covered with a layer of soil
Whether you have an older home that never received proper exterior waterproofing, or a newer home that was built quickly and experiencing water problems, there are solutions to keep your property dry and structurally sound.
Services Area
Our service area for exterior waterproofing includes Windsor, Leamington, Kingsville, Essex, Amherstburg, LaSalle, Tecumseh, and Lakeshore.