Foundation Repair for Buckling Bowing Walls
If the foundation walls of your Windsor area home are bowed or buckling, foundation repair work is required immediately. Depending on how severe the bowing or buckling is, it can lead to failure of the foundation and possibly having to rebuild it.
TRS Waterproofing and Drainage specializes in foundation repair work, providing warrantied solutions for foundation wall straightening. Our solutions will permanently straighten and  stabilize your foundation walls from any further inward learning.
What Causes Bowed and Buckling Foundation Walls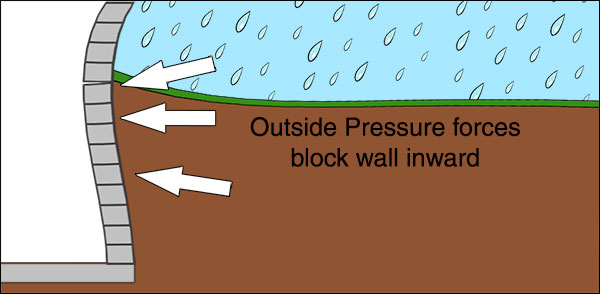 In Windsor and Essex County, bowed and buckled basement walls are generally caused by the pressure against your foundation. The amount of pressure varies depending on the following factors.
1. The type of soil around the home. Clay is especially bad for creating too much stress
2. How much moisture is in the soil
3. How far underground your foundation extends
Other factors, such as hydro-static pressure, expansive clay soils, poor grading, improper gutter systems, and frost can also lead to foundation issues. Whenever the pressure on the outside of the wall is greater than the strength of your walls, they will start to bow or buckle.
How We Repair Foundation Walls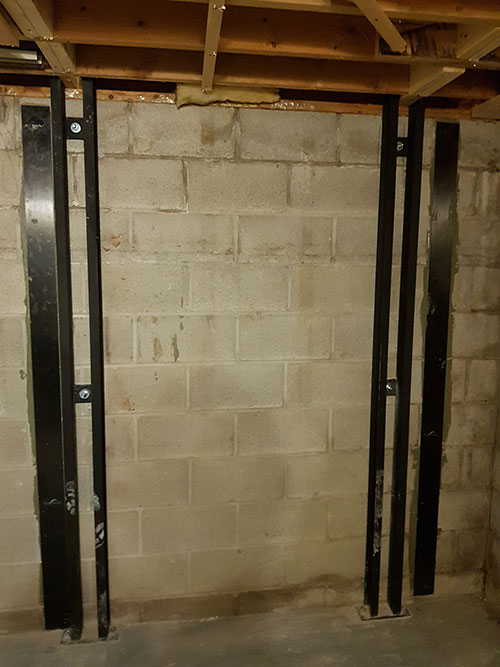 Depending on the severity of the issue, one of many solutions can be used. We will first diagnose the cause of the foundation wall problem and provide you with a long lasting solution that will stabilize your home.
When possible, we recommend repairing bowed or buckling foundation walls with steel wall supports that are the same width as a standard 2″ x 4″. These wall supports will not rust or deteriorate over time as they are zinc coated for protection from this kind of corrosion.
In other circumstances, we use rebar and fill the cores in your walls with concrete after the walls have been pushed back and straightened. There are also situations when it is just best to remove the wall and rebuild it. Again, it all depends on the severity of the issue and the amount of access to it.
As foundation repair specialists, we want to help you restore your bowing, buckling, or leaning foundation walls back to their original, structurally stable condition. If you see cracks in your walls or if your walls are showing signs of bowing or leaning, call us to come out and have a look. We will provide you with a free, no obligation quote that identifies the root of the problem and what needs to be done to fix it.
Services Area
Our service area for foundation repairs to buckling and bowing walls includes Windsor, Leamington, Kingsville, Essex, Amherstburg, LaSalle, Tecumseh, and Lakeshore.