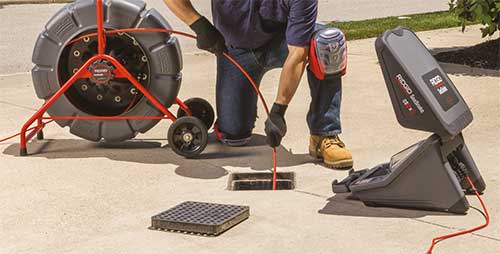 Prevents Costly Repairs
A camera inspection is an ideal way to determine the exact location of drainage problems in Windsor area homes and businesses.  TRS Waterproofing & Drainage uses a SeeSnake inspection camera that is inserted into your drain or sewer  to inspect for problems such as leaks, blockages, and broken pipes.
On a full-colour monitor, the high definition camera provides visual proof of where cracks, blockages, or breaks are located. The camera also emits a high pitch sound that increases as it gets closer the problem area.
Reasons for a Camera Inspection
Eliminates guessing and unnecessary approaches
Avoids costly property damage such as having to dig up an entire front lawn or demolishing an interior wall
Gives customers visual proof of the problem
Determines if pipes are broken, cracked, collapsed, misaligned, leaking, blocked, or corroded
Ensures the problem is correctly fixed
An Affordable Solution
Trying to visually locate a cracked or broken pipe can be difficult, messy, and expensive. However, with video inspection cameras and locator technology that can transmit the exact location of the problem, we can provide an affordable solution that saves you both time and money.
Drain Inspection Service Area
Our service area for drainage inspections includes Windsor, Leamington, Kingsville, Essex, Lakeshore, Tecumseh, LaSalle and Amherstburg.