Create Space with Basement Lowering / Underpinning
Basement lowering and underpinning of Windsor area homes is usually required to create additional living space.  In some of the older homes, basements have lower ceilings and are primarily used as a utility space. However, with the proper engineering, construction, and waterproofing technology, we convert these types of basements into livable space, by lowering the basement floor and waterproofing the foundation.  This is usually done by foundation underpinning or benching.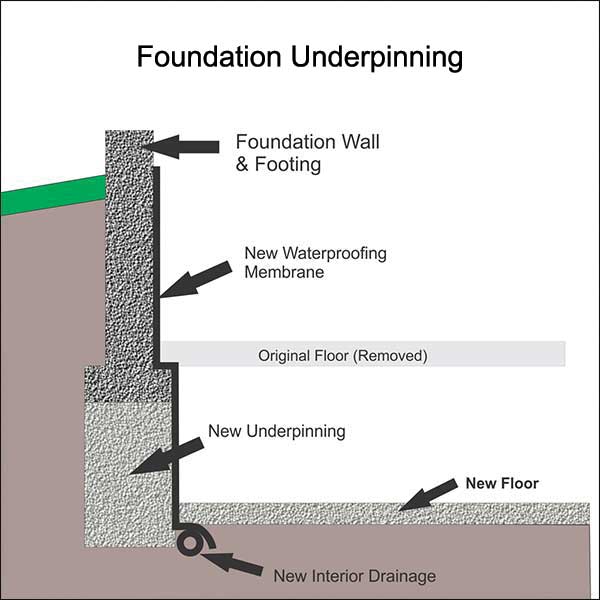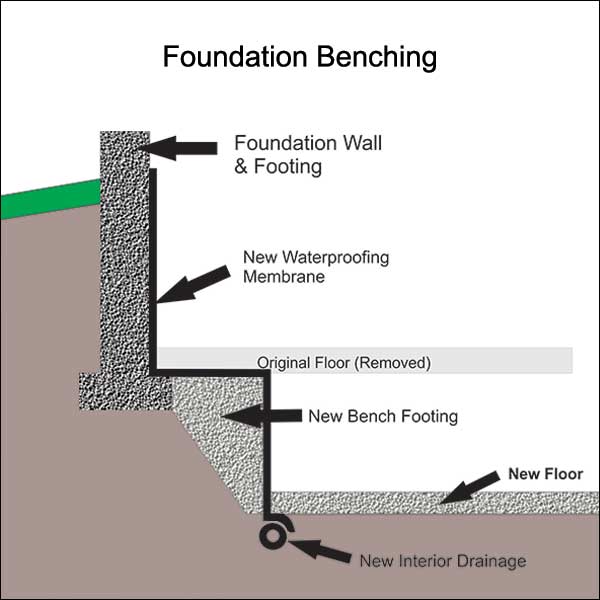 Which One? – Both foundation underpinning and benching require structural changes to your walls and footings in your home. The benching method is a quicker process and less costly, however it also provides less space. Whichever method is selected, it must be done correctly so that your foundation is not damaged.
Experience – TRS Waterproofing and Drainage has  the foundation experience and equipment to handle your project each step of the way. From our initial discussion to excavation, to the final waterproofing and grading, we will work with you to make sure the lowering of your basement is handled professionally.
One Stop Service – We provide all the related services associated with a basement lowering project, including such things as installing sump pumps, relocating floor drains, excavation, waterproofing, pouring a new concrete floor and much more.
If you're looking to add space to your home, lowering your basement for additional height may be the perfect solution. Contact us for a free no-obligation quote.
Benefits of Lowering Your Basement
Extra living space
Improved air quality
Increased home value
The Cost
The cost to lower a basement will vary from home to home as many factors must be taken into consideration. These include the size of your basement, the type of foundation you have and its existing condition, the depth of excavation, the age of your home, the soil type, the number of support columns to be moved, relocating water and sewage lines, floor drains, etc.
Service Area
Our service area includes Windsor, Leamington, Kingsville, Essex, Amherstburg, LaSalle, Tecumseh, and Lakeshore.